With the same basic controls as the classic Asteroids®, you must learn to navigate and fight with inertia ever present. Solaroids is not a game for the twin-stick junkie. You'll need to evolve or perish trying. Take complete control of your vessel, amass advanced weaponry, and take back the stars…
Help Solaroids earn the respect it deserves on IndieDB!

Early build for Xbox 360 available till September at: Solaroids: Prologue.
Trailer
Features
Classic Asteroids® game play
Huge wrapping arena
Power-ups and new threats unlocked throughout the levels
Various bosses
Customize player ship colors
Damage system
Forward and reverse thrusters
Progressive difficulty
Continuous leveling
Up to 4 local players

Join at any time
Unlimited credits
Cooperative or not, you decide

Supports common controllers:

Xbox 360/One
Dualshock 3/4
Screenshots
Single player shown, if multiple players are in game each is allocated an area of the screen.
Familiar Yet Refreshed Controls
With controls similar to the original, learn to pilot your craft using the enhanced precision of an analog thumbstick and triggers in order to carefully regulate the amount of thrust necessary to intercept or evade incoming threats.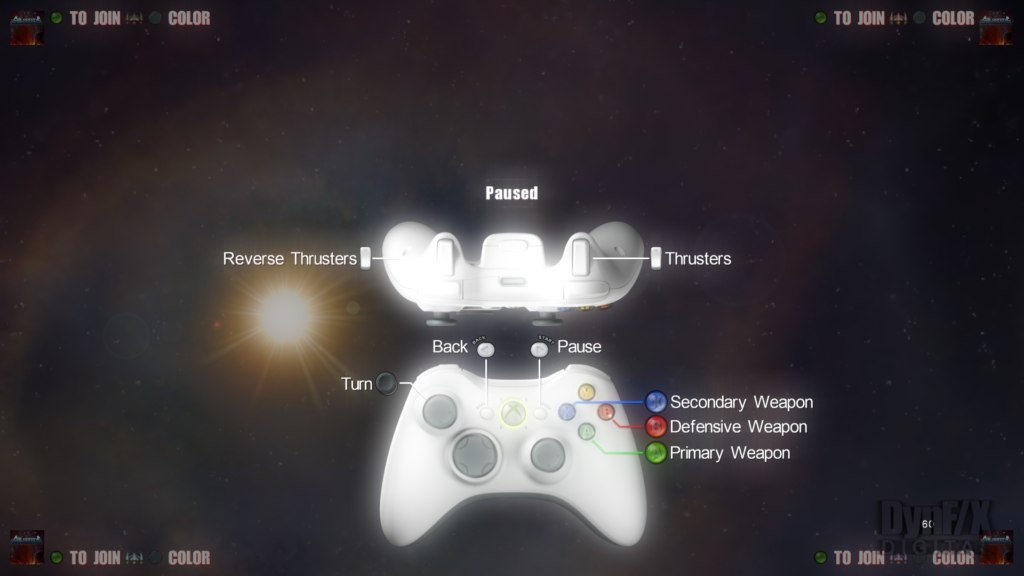 Power-ups & Tokens
Equipped with an upgradable primary weapon and slots for optional secondary and defensive weapons that can be discovered as the game progresses.
Various power-ups are unlocked the longer you play:
Level 1 – Shields
Level 2 – Rapid Fire & Enhance Turn Speed
Level 3 – Outriders
Level 4 – Burst
Level 5 – Atomic
Level 6 –  Missiles,  Enhanced Main Cannon Speed
Level 7 –  Sonic Boom,  Enhanced Main Cannon Damage
Various token "freebies" are unlocked as you progress:
Level 1 –  Repair,  Volume +/-, &  Change Music Track
Level 2 – Bonus Ships
Local Cooperative Play
If a couple of your mates walk in, have them join in the fun.  No need to leave the game to add players, as they can join in at any time.  Just connect another controller, optionally customize the color scheme, and pow… your in!  Someone needs to drop out for a while, just don't continue and the game will be forfeit.  No worries.
Someone take your loot, or fire a little too close for comfort… Pop of a few rounds to let them know who's boss and that it's not appreciated.  Nobody's gonna stop you!