Help Solaroids earn the respect it deserves on IndieDB!

Classic Asteroids® updated with modern gameplay and perfected controls. Explore hazardous environments and sneak around asteroids to surprise attack giant bosses. Upgrade your ship to use additional power-ups. Single player or fight with up to 3 friends with intense local coop.
Dodge and strafe your way to victory against insurmountable odds. Compete on the global Leaderboards using either modern "Twin-stick" or classic "Tank" controls, and see how you stand up to the best pilots.
Stand your ground against a seemingly insurmountable threat that is after your precious sun. Defend your solar system in a continuous conflict that progresses from tame introductory levels to epic high-octane space battles that will challenge even the most experienced pilots.
Power-ups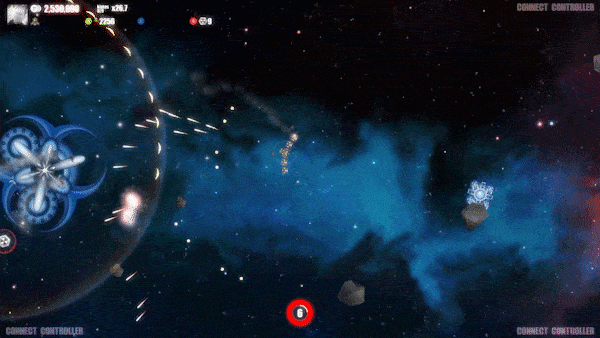 As the levels progress and the threat continues to grow, so will the kinds of weapons at your disposal. Perform advanced maneuvers while dodging asteroids, mines, and enemy missiles as you upgrade the capabilities of your ship and rack up higher and higher scores. Equip primary, secondary, and defensive weapons – the choice is yours.
Upgrades
Add additional outrider attachments to your alpha fighter and create an extremely powerful ship. Keep both your ship and outriders in good repair or watch your precious power-ups float off into the darkness of space for the taking.
Bosses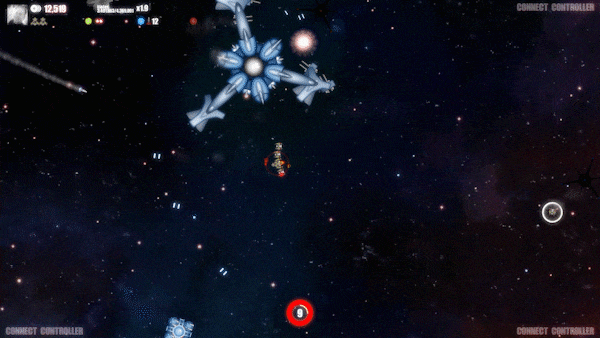 Under the cover of an asteroid belt, enemies and complex bosses lurk waiting to attack. Each boss has their own attack patterns, weapons, and weaknesses. Tread carefully and use the hazards in the belt to defeat your foes without succumbing to them yourself.
Local Multiplayer
Fly solo, or with up to three of your friends in local multiplayer mode. Play co-op against waves of enemies or square off against each other in a wide-open combat arena. Players can join at any time with no need to setup complex game modes. Keep your straight during intense combat by customizing your primary and secondary ship colors, or configure friendly fire/collisions to adjust the level of co-op.
Emulation
Emulate the look and feel of Classic arcade machines or retro consoles by adjusting Vector, Palette, and CRT effects. Mix and match to your taste!
Early Access
My name is Chad Yates (Kiates), and I am passionate about delivering Solaroids as the best Asteroids© style retro 2D arcade game on the market now or ever. Browse my update and patch history or look at the regular high score events I hold. Check the forums and you will see my level of commitment. Please join my community to suggest changes and play my latest builds – let's build this together!!
Solaroids will continue to evolve with input continuously gathered from players in the community, as it makes its way to an official release out of Early Access!
Additional Features
Damage system based off physical, mechanical, and electrical properties

Up to 4 local players

Unlimited credits (configurable)

Free Play – Provides instant and insanely intense action (unlockable)

Separate local and global leaderboards for both First Credit and Any Credit high scores

Original soundtrack

Support for Steam music

Fully configurable control styles: Classic, Hybrid (single-stick), Modern (twin-stick)

4K+ resolution support

60Hz-240Hz+ support